Jan 12
9
A. The Historical Problem
Maybe you're familiar with my "sad condition". It's called "procrastination" by some, and "a sure sign of genius at work" by more enlightened critics.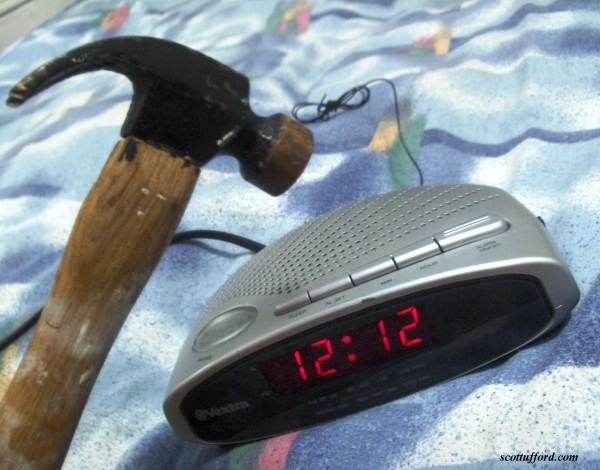 As a Master Procrastinator, or The Procrastinator King, any excuses I invent for my own slack behavior are far more clever and self deceptive than any my supporters might concoct for me.
"We know you have a lot of stress"–
"Everybody is too busy these days to finish everything"–
"It's just because you're artistic and you meditate a lot!"
etc. etc.
(Amateurs! Well meaning, but amateurs. They probably never goofed off a day in their virtuous lives, so they don't realize they're being played. Or, they're compensating for me because they secretly wish they could be as slack–but that's another story.)
Fact: I am far too diligent in my slothfulness for anyone else' kind alibis to work.
Fact: Only the master of his own jail cell may convincingly portray himself as a prisoner…
Lounging comfortably on his tattered bunk, with unlaced scruffy boot he pushes his prison door key out of sight under threadbare rug when sympathetic visitors come to his cell.
B. Some Brutal Solutions
Probably the most compassionately brutal thing you can do for the self-educated & self-imprisoned man:
Use tough love.
Like a Sherlockian psychologist, deduce his weak point, find the key to his deception.
Threaten to uncover & steal that key.
Convince him of your sincerity, at least he'll lose his crocodile-like torpor for a second. Leap up in half-hearted defense of his right to waste his life…on his own terms.
Why?
Without the comforting fact of his capacity for self-escape, his confinement would soon prove intolerable!
So if you want someone to get off his or her lazy butt, just find a way to threaten to make his self-confinement WORSE or IRREVERSIBLE.

Or, refuse to visit his jail cell.
Refuse to send monthly care packages reminding him how nice life would be if he were free.
Refuse to make sympathetic excuses for his procrastination.
Refuse to accept his apologies for not following up on his dreams.
Eventually, he might creep mouse-like out of his cell when he thinks no one's looking…just to sneak a fresh breath of that strange new air called "life" coming in from beyond the jail.
C. The Shocking Results
Who really knows? That's why life is a freedom and freedom is life.
But one thing you know–
tough love works.
Just be careful how much you use it for others–
they might catch on & use it for YOU.
Because nobody's perfect, you know!
* * * * * * * * * * * * *
My Post Script & Pre Script–
What YOU Get Out of This:
I promise to post more regularly in 2012.
Twice a week. Shorter posts.
With more of my philosophical & political views,
more of more quirky sense of humor,
& more of my wild-eyed creative knee-jerk responses to the events of the day that concern us.
I'll invite you to get more out of this blog & its growing community–
including surveys & contests,
& share special inspirational secrets.

Why? Because I believe you have special qualities–
you have special potential you WANT to tap into THIS very exciting year of 2012.
God knows these gifts are waiting inside you.
When you tap into your uniqueness with daring & with hope–
miracles can happen.
And I want to help.
Promise!

Sincerely,
Rev. Scott Ufford
The Psychic Philosopher
Copyright 2012
---
related post
Tweet