Dec 11
25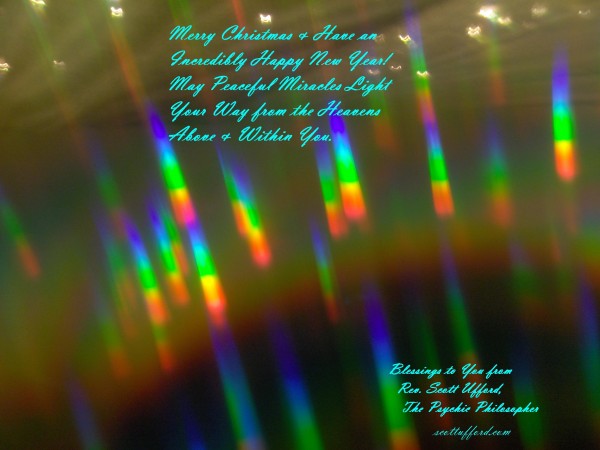 A Merry Christmas, Happy Hanukkah & beautiful Holy Season to you & yours!
Have a Happy Healthy Prosperous Peaceful Exciting New Year in 2012 and–
despite what the Mayan calendar supposedly says–
far beyond!
Here's my valuable holiday gift for you:

Get a big jump on New Years 2012 with all its outrageous prophecies & possibilities.
Try this Fun, Simple Scientific Formula you can really benefit from.
It's called NEW GOD'S CHANGE YOUR LIFE SUCCESS FORMULA:
YOUR
Focus + Intent = Direction of Life,
Direction of Life + Gratitude = Wisdom,
Wisdom + Action = Results,
Results + Desires & Weaknesses & Strengths Tested & Made Clear By Those Results = Today,
Today = LIFE.

When you change ANY QUALITY and QUANTITY of ENERGY you put into ANY part of
New God's Change Your Life Success Formula–
you change your life's conditions–
and the lives of the people around you, too!
Secret Fact:
Since August 2011, I have reported on how God is exponentially changing the QUALITY and QUANTITY of GOD CHANGE ENERGY pouring like titanic waterfalls into Earth and all her creatures from the invisible spiritual realms.
It's so DIFFERENT, and God's energy–the tiny drop I am aware of–feels so NEW, like the beginning of a new ERA–I'm inspired to call God "NEW GOD".
This GOD CHANGE ENERGY flows according to NEW GOD'S UNSEEN SIDE of the CHANGE FORMULA.

But you have to experience it for YOURSELF.
So please DON'T go into New Years 2012 with all its wild prophecies & hopeful possibilities
feeling powerless to change your past, present or future.
Instead, get in touch with the New God Change Energy that's sweeping Earth now.
How?
Enter the silence.
Ask New God in meditation to SHARE with you and HELP you.
Ask how to change what YOU put into your Success Formula.
Ask for help to do this every step of the way.
LISTEN & give THANKS.
You can TRUST in New God's Change Your Life Success Formula.
You can consider Christ as a mighty FORCE FOR GOOD within New God's Formula.

Enjoy your experiments (experience) & let me know your progress!
Love, Peace & Happiness to You!
–Rev. Scott Ufford,
The Psychic Philosopher
Copyright 2011
---
related post
Tweet